How to burn Arduino Bootloader
In this tutorial,we will show on how to burn Arduino bootloader to empty atmega328 IC.
What's a bootloader?
Microcontrollers are usually programmed through a programmer unless you have a piece of firmware in your microcontroller that allows installing new firmware without the need of an external programmer. This is called a bootloader. (Source : https://www.arduino.cc/en/Hacking/Bootloader?from=Tutorial.Bootloader)
Step to Burn Arduino Bootloader
First Step: Setup Connection between Programmer and targeted Arduino
Second Step: Load the Sketch to Programmer
The Arduino that you will use as programmer needs a specific sketch. You find it under Examples > 11. ArduinoISP > ArduinoISP .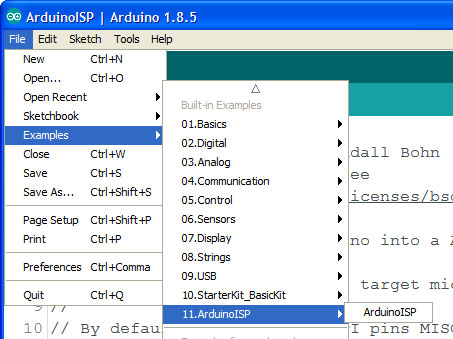 Third Step: Set Arduino as ISP
In the Programmer,you need to set the programmer to Arduino as ISP.You can find it under Tools > Programmer > Arduino as ISP
Final Step: Burn Bootloader
Last Step is burn Arduino Bootloader to targeted Arduino. You can find it here Tools > Burn Bootloader